Hey, it's Friday again already! I had so much fun coming up with cool internet stuff to show you guys last week, I think I'm gonna make this a regular Friday feature. And this week, I'm starting it off with magical nordic elves.
1) OMG how lovable is Iceland. They recently halted work on an Icelandic highway because people were worried it was going to disturb the habitat of the Huldufolk, human-sized invisible elves that 50% of Icelanders believe are real. I'm serious.
2) I'm really into Yael Naim this week. She's a French-Israeli singer/songwriter who had that great song "New Soul" in the Macbook Air commercial a few years ago. Right now I'm digging "Go to the River." The video is kind of weird but the song is beautiful.
3) I loved this Modern Parents Messy Kids post on "The Summer of Yes." Doesn't that sound like an awesome mantra for summertime? Here is just a snippet of Steph's wisdom, but you should really click over and read the whole thing yourself.
I will remember that just as giving my children boundaries and reasonable, age-appropriate expectations is not going to break their spirit, letting a few things slide in the name of being a preschooler is also not going to create self-centered and co-dependent adults.
I will remember that my friends have dirty houses just like mine – they'll barely even notice it, let alone judge me for it.
I will remember how special I can make my child feel simply by stopping in the middle of what I'm doing, making eye-contact and listening for 3 minutes.
I will remember that a little silly goes a long way.
4) Check out these adorable summer-themed building blocks by Fidoodle: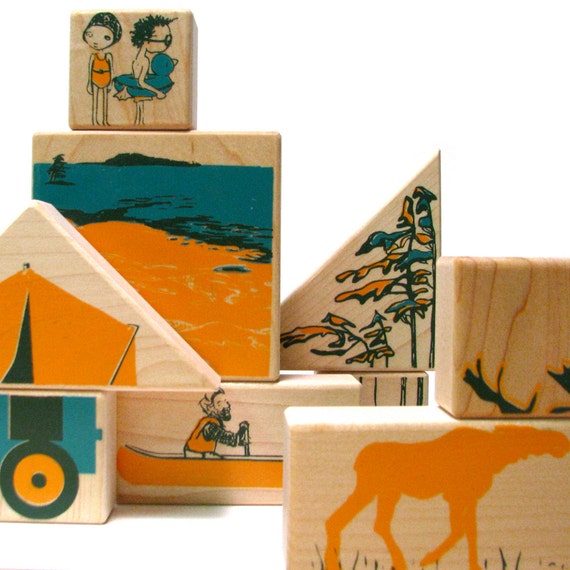 Fidoodle makes all kinds of lovely hand-printed wooden stuff. I'm also rather fond of their suburban-themed blocks. Who knew ranch houses and station wagons could be so cute?
5) CHAMOMILE CUPCAKES. So sweet. My pint-sized little old ladies will love these. 
6) My friend Michelle, the brains behind the thoughtful motherhood essay-blog Juicebox Confession, is hosting an awesome, Waldorfy giveaway of kid and baby stuff.
Click over to her blog and fill out the entry form to win some sweet, wholesome swag for the little one in your life, including wool felt play food by Bubba Pickle's Market, fairy wings from Fantasy Kids Wear, and beautiful carved wooden toys from The Enchanted Root.
7) Finally, I'll just leave you with this to usher in your weekend.
Happy Friday!